Berkeley Neighborhood of Denver : Tennyson Counseling Denver Offices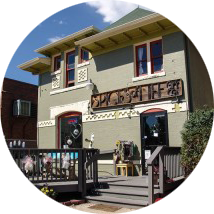 What is Tennyson Counseling Denver? You may have noticed as you've strolled along the Tennyson Street District, a large Tennyson Counseling sign, and wondered what it was. Tennyson Counseling consists of four independent private practice therapists, including myself. We are all independent owners, but we share the upper floor of the victorian home. Our businesses may be separate, however, we have developed a family within Tennyson Counseling Denver and we all have a diverse specialty that speaks to many people struggling with different issues. Please feel free to ask about our specific specialities.
Modern Love Counseling is one of the four businesses that consists of Tennyson Counseling Denver. I am honored to have my business located in the same neighborhood I grew up in.  As a Colorado ("North Denver") native, I have many memories of the neighborhood before it became the trendy Tennyson Street district. I went to elementary school down the street and used to rollerblade around Tennyson Street with my childhood best friend. Although times have significantly changed, I still feel at home in the old victorian building my office is now located in. The Berkeley neighborhood will forever be nostalgic and Tennyson Counseling Denver has become my second home.
Next to  the new Natural Grocers off 38th and Tennyson Street, my office is located above the (cute) gift shop, XO Gift Company. You will see a turquoise sign outside that reads "Tennyson Counseling."
In order to find me, please do not go through the shop. Follow the outdoor cement pathway on the side of building which will lead you to a door and a set of mailboxes. Walk up the stairs, take a seat and feel free to make yourself a cup of tea while you wait.
Tennyson Counseling Denver located at 3867 Tennyson Street Denver, Colorado 80212 Your GPS may send you to the Gift Shop which is located under my office on the main floor of the building.
In addition to Tennyson Counseling, there are many things to do on the busy Tennyson Street district. With all the new restaurants, wellness stores/services, etc,  I would highly suggest venturing off for a cup of coffee, acupuncture session or dinner before or after your counseling session!
Tennyson Counseling (consisting of Modern Love Counseling) in Denver is located off 38th and Tennyson in Denver.
Modern Love Counseling in Denver offers counseling services for adult individuals and couples in the Denver Metro area.