Couples Counseling in Denver, Co
Modern Love Counseling specializes in Couples Counseling in Denver, Co for Adults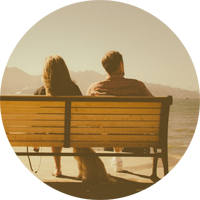 Seeking out Couples Counseling in Denver can be very intimating at first. Especially if both of you aren't fully agreeing or have perceptions about what it's going to be like. I think most of us can relate on one simple factor, we unfortunately were not taught how to be in vulnerable relationships and this often leads to conflict or dissatisfaction in our lives as we become adults.
Your relationship may not be as exciting as it used to be and you may find that your partner doesn't understand you. Your sex life may be a cause of great pressure and anxiety, while the connection you once experienced feels like it's dwindling away. Maybe you feel stuck and you find yourself questioning what other options are out there. Is the grass greener on the other side?" 
Or… Maybe you get along just fine, but you are hoping to enhance your relationship and gain the tools on how to stay connected for your future. You may want to fulfill your own dreams of what a "successful relationship" looks like and just because other relationships in the past may not have worked out, doesn't mean this one can't be the real thing. 
With equal participation, I can help you learn how to ask for your own needs to be met, as well as how to fulfill your partner's… No matter how scary it may seem at first. You will
build an intimate emotional connection that will result in diminishing your rigid (disconnected) pattern and you will feel more satisfied and secure in your relationship.
Couples Counseling in Denver : Modern Love Counseling
"This whole process brought up some issues and insecurities for both of us. Alysha is amazing. She helped us strengthen our communication skills and trust in each other. For us, she was an unbiased person with pure intentions who could listen to our feelings and help guide us through difficult conversations. We have had some tears in her office, but just as many laughs. She truly cares about us as people and that is so evident every time we meet with her. I don't know if we would be where we are in our relationship without her." – Desiree
I understand issues that can plague our relationships. It is my passion to establish a deeper connection within our relationships, so that we can feel safe about our overall security and passionate about our ability to love one another even if we express it differently.
Couples Counseling in Denver : I offer support to couples at any stage of their relationship wanting to enhance and deepen their connections, learn to effectively argue/communicate, as well as strengthen the longevity of their relationship.
More specifically, I can also help with:
Overall Enhancement and Fulfillment in Relationship
Relationship and Intimacy Enhancement
Conflicting Communication Styles
"Preventative" Couples Counseling (What is "Preventative Couples Counseling?") 
Disconnection and Dissatisfaction
Religious / Cultural / Racial Differences
Infidelity / Affair(s) Recovery
Internet / Social / Societal Influence
Trust Issues and Insecurities
Conflict and Consistent Arguments
Pressuring Expectations
Isolation within the Relationship
Individual Self Esteem Issues within the Relationship
Family Conflict(s)or Pressures
Family Planning
Sexual Insecurities/Conflicts/Trauma
Emotional Disturbances
Emotional Withdrawals
Financial Conflicts or Insecurities
Infertility Issues
Miscarriage(s) Support
Abortion(s) Support
Life Transitions
"Dependency/Co-Dependency" Issues
Past Divorce(s) or Painful Past Relationship Fears
Pre-martial Couples Counseling
Marriage Counseling
I specialize in Couples Counseling for adults in Denver. I also offer a free 15 minute consultation.  Please contact me for more information or learn more about me.  As a modern therapist, I consider myself LGBTQIA friendly and culturally sensitive to individual's diversity.
Due to Colorado Code of Regulations (8.012.2.C), I am unable to charge for my services to Medicaid holders.  For more information, please contact me.