Meet Your Therapist :  Alysha Jeney with Modern Love Counseling in Denver, CO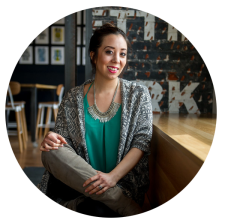 Hey there! My name is Alysha Jeney (Trujillo), MA, MFT-C and I am a psychotherapist providing relationship counseling in Denver, CO. I own Modern Love Counseling located in my native neighborhood of Sunnyside in Denver and offer counseling services for adult couples,  individuals and business partners in the Denver Metro area. I am also the CEO and Founder of The Modern Love Box, a monthly subscription box meant to inspire growth in modern relationships.
I received my undergraduate degree in Psychology from Metro State College of Denver and later earned my Master's Degree in Marriage and Family Therapy from Regis University. I have advanced training in Emotionally Focused Therapy (EFT) and I specialize with issues surrounding relationships, self-awareness/self-perceptions and emotional processing.
As I stumbled through my own journey, I realized the significance of maintaining and developing authentic relationships. I started to understand how my past was affecting my present, and after endless (failed) attempts at finding love and being successful with feeling understood by others… I realized I needed to start looking inward.
Why did I become a therapist? Simply put, because counseling changed my life. Although the process of my own development is never-ending, counseling helped me pick apart the pieces of my own puzzle and supported me through putting it back together with grace and empowerment. I feel extremely passionate about helping others feel supported in their own exploration.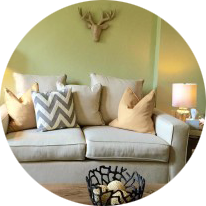 Sharing connection is something we all innately strive for, (yet is unfortunately one of the most difficult things to attain). Because of this, it has become my greatest passion to create the necessary safety that allows my clients to explore and accept their "real" selves, while creating the ultimate level of security in their relationship(s). Whether a relationship is business, friendship or love oriented, it is important to feel safe and confident in being your authentic self so you can grow as a team and sustain depth and connection.
My counseling style is unique because I thrive on bringing my authentic self into sessions.
You can expect our sessions to be inspiring, funny, helpful, comforting and enlightening, all while enhancing your ability to connect with others authentically and get to the core of what's blocking you from feeling fulfilled and happy.
She truly cares about us as people and that is so evident every time we meet with her. I don't know if we would be where we are in our relationship without her. I owe her so much… more than I could ever say. She helped me grow as an individual, which only strengthened my romantic relationship. -Desiree
I am humbled and honored everyday. One of my favorite things about being a therapist in Denver is the authenticity I get to experience with someone who genuinely trusts me. With that ultimately comes growth, and when my clients begin to free themselves of past behaviors and painful emotions, it's amazing to see their transformation unfold. I see (and feel) the raw emotions, that we as human beings are all capable of and it's such an honor to be along side my clients through their process. I, too, have my ups and downs… and what makes me balanced and my relationships successful, is my level of self-awareness and ability to ask for what I need from the people I trust and value the most.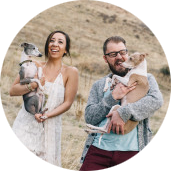 When I am not wearing my therapist hat, I love to spend my free time with my husband and our two Italian Greyhounds. I enjoy my friends and family, practicing yoga and cooking a nutritional plant-based diet.
I believe it is extremely important for the initial connection to start between client and therapist, so please feel free to contact me to set up a free consultation or phone chat if you'd like to hear more about my counseling services in Denver. "Going to counseling" doesn't have to be feared or criticized. We are a society that prides on superficiality, so it makes sense that we feel disconnected, isolated and dissatisfied in relationships from time to time. I'm here to help!
I look forward to starting this journey with you!
–Alysha Jeney, MA, MFT-C
---
Modern Love Counseling in Denver is located at 2433 W. 44th Ave Denver, CO 80211. Modern Love Counseling offers counseling in Denver for adult individuals and couples in the Denver Metro Area.
Due to Colorado Code of Regulations (8.012.2.C), I am unable to charge for my services to Medicaid holders.  For more information, please contact me.