Denver Counselors | Modern Love Counseling Testimonials – What my clients have to say: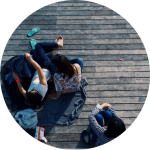 "My husband of 6 years and I were on the verge of divorce, and had been for some time, when we went to see Alysha. She is hands down the best in the industry!!! She is so warm, welcoming, and she actually cares about the work she does! We worked with Alysha for a few months (although I continue to see her on an individial basis) and gained so many tools for  communication,  how to be vulnerable  with one another, and how to bring the fun and excitement  back to our relationship.  Today, we are on the road to recovery as a couple and using everything we learned from Alysha to keep our relationship  strong. She's absolutely incredible as both a therapist, and a person!" Aubrey, 27
---
"I was resistant to [couples] counseling, especially when my husband wanted to go to 'work on our marriage'. I was embarrassed and felt ashamed for not being able to work through my own issues with my own husband. With a chip on my shoulder and half open arms, I tried it. My initial feelings were completely turned around after our first session and I immediately felt understood and accepted by Alysha. She never picked sides or made one of us feel bad for the horrible things we had unfortunately done to each other in the past. She really helped us strengthen our communication and trust. Our relationship is stronger than ever. I would highly recommend Alysha's services."  Leslie, 41
---
"Alysha saved our marriage." S.G, 34
---
"I immediately felt comfortable with Alysha from the first time I met her and she really helped me establish confidence within myself. I feel a lot better after working with her." Mike, 26
---
"I've been working with Alysha for over a year now. She has been a tremendous support in my life.  I cannot express how much I value myself and what she has ultimately helped me get through." V, 31
---
"Alysha and I had a few sessions together over the summer and worked on moving forward from a bad break up. She has an amazing ability to make you feel comfortable and trusting with being vunerable with her. She is very friendly and very engaged in each session. She is extremely helpful in developing coping strategies and pushing you (gently) outside of your comfort zone to achieve maximum mental health. I really enjoyed working with her and look forward to contacting her in the future when needed!!!" Gillian G.
---
"I just began working with Alysha, but she has a very disarming, warm, and receptive quality to her that is very nice in discussing extremely challenging and emotionally raw situations. She has a very real and genuine approach that creates a sense of relevance in discussing modern day relationships." Kent S.
---
*Some clients' names have been left ambiguous to protect client confidentiality.